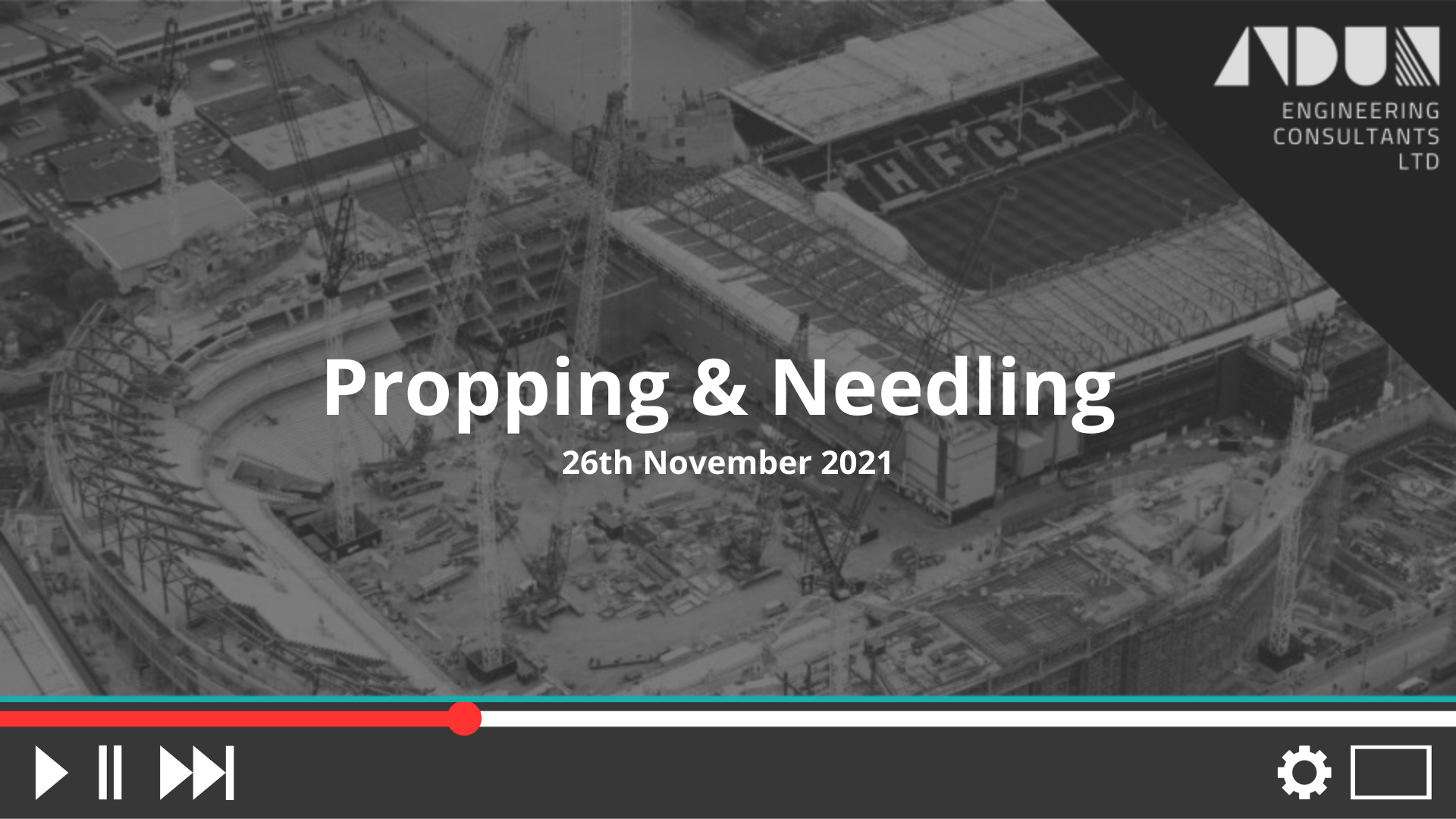 Propping and needling webinar recording providing an overview of the design considerations required when making an opening in a load-bearing wall.
Webinar Overview
Panelists: Joshua Martin (Andun Engineering Consultants) and David Stevens (Andun Engineering Consultants)
Date: 26th November 2021
Duration: 31:47
Content Outline
What Is Propping & Needling?
Propping and Needling is the temporary works associated with creating openings in walls. This is typically used in cut and carve demolition where the scope of the work is to open up an enclosed area to create an open airy space.
Considerations For Propping & Needling
There are a number of different design considerations that need to be considered, those discussed within the webinar include;
Importance of Site Investigation
Requirement for back propping (where necessary)
Lateral Stability
Support of other structures
Sequence of construction and the permanent solution
Checking for any services
Exclusion zones
Foundations and potential settlement
How the new beam will be installed and permitted working space
Deflection of the new structure
Supporting vertical loadings only (Shear walls and arches will require further TW)
Overall stability of the structure with the openings created
Other openings nearby and the interface between them
Types of Propping and Needling
Josh also reviewed the different types of propping and examples of use cases for each one.
Strong boys or temporary lintels
Needling with props onto solid floor (props every needle or header beam on props)
Backpropping with needling props or reverse needles
Widely spaced large needles with pinned wall with back to back PFC and small needles. Similar application with PFCs only.
Pinyford stool method
Back to back FCV stools
Scissor propping
Case Study
The India Buildings Liverpool (27:16)
Additional Resources
Building Research Establishment (BRE) (Good Building Guides)
Temporary Works Forum (TWF)
CIRIA (C589 – Retention of Masonry Facades among others)
BS5975 Temporary Works Flowchart
Temporary Works: Principles of design and construction (ICE Publication)