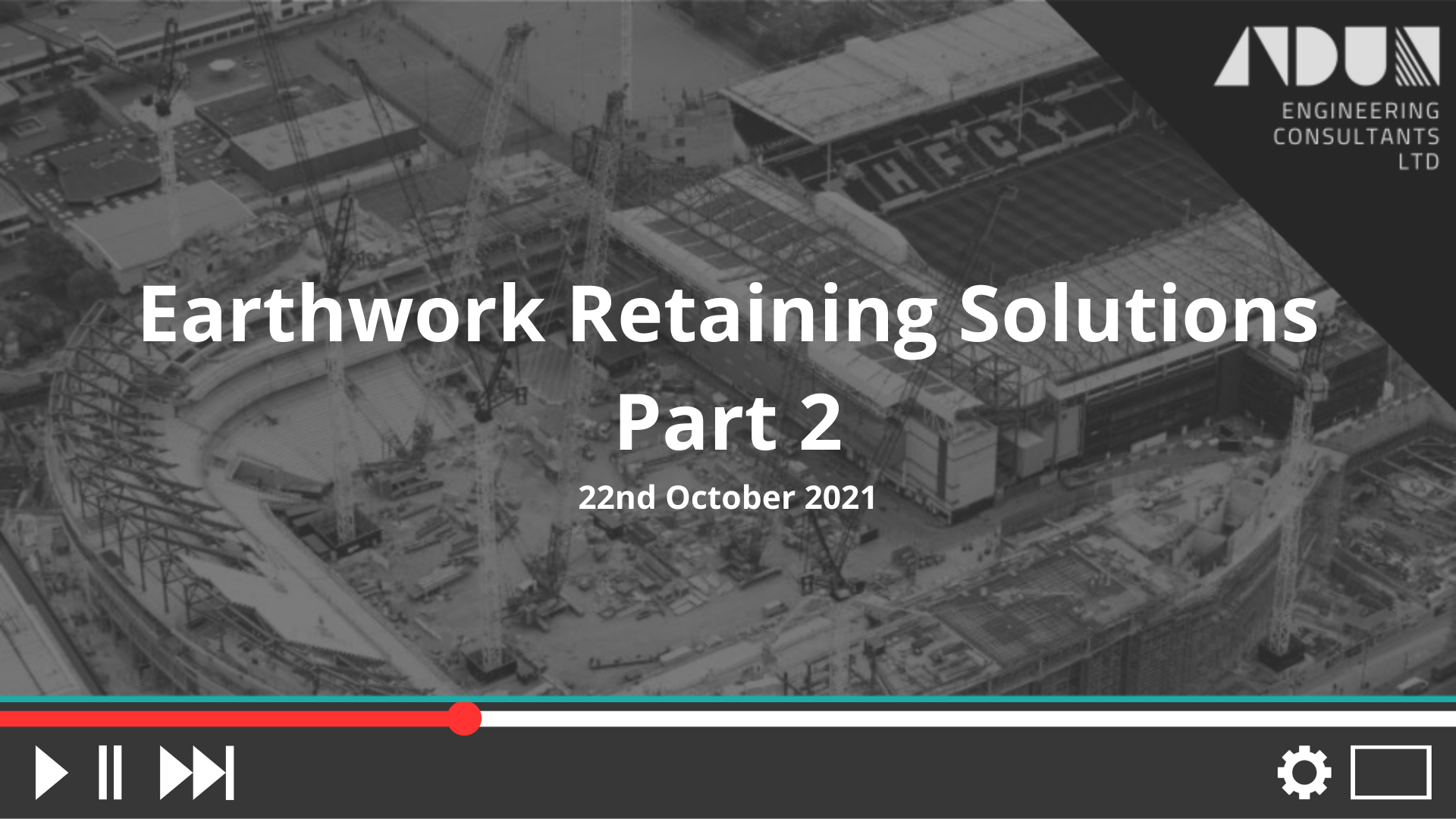 The second review of the design considerations for different types of temporary earth retaining solutions. The webinar looks at the different types of temporary earth retaining structures, focusing on practical demonstrations of the implementation of sheet piles, trench boxes and L walls.
Webinar Overview
Panelists: Joshua Martin (Andun Engineering Consultants)
Date: 22nd October 2021
Duration: 31:47
The webinar starts by reviewing the types of temporary earth retaining structures and the use cases for each type. Then there is discussion about the causes of failure and the design considerations that can be taken to analyse solutions and avoid failure across different scenarios.
Gravity Walls
Mass concrete gravity walls
Gabions (Bag work wall)
Interlocking block walls (lego blocks)
Reinforced concrete cantilever walls (L walls)
Embedded Walls
Trenching systems
Sheet-pile walls
King post ('Soldier pile' or 'Berlin' walls)
Composite Walls and Other Support Systems
Combined systems
Anchored earth/ support uning ground anchors/ soil nailing
Reinforced soil (MSE) structures AKA geogrid reinforced walls
Content Outline
Case Study – Artisan Heights Unite Student Tower (22:44)
This was the use of L Walls at Artisan Heights in Manchester.
The principal contractor was Bowmer & Kirland, Curtins were the structural engineers with Andun Engineering Consultants providing temporary works design support.
This was a compact site with a number of engineering constraints.
The L walls were the most effective design solution as they were versatile, off-the-shelf items that were adaptable. They also helped utilise space effectively and required smaller plant on on a site with a tight footprint with constrained access. The final advantage was cost compared to other solutions that were explored at the concept stage.
Additional Resources
We recommend taking a look at the first webinar Andun delivered on this subject – Earthwork Retaining Solutions Part 1