Andun Engineering Consultants (Andun) provide the design and supporting calculations for tower crane base designs for demolition and temporary works projects.
These designs can be implemented on projects featuring the following types of tower crane
A-Frame tower crane
Flat top cranes
Luffing tower crane
Self erecting tower crane
Types Of Tower Crane Foundations
The type of foundation designed for a tower crane depends  on a number of factors.
Including the type of project being undertaken, the position and ground stability of the site as well as the interface between the tower crane and the interface with the permanent works.
Gravity Bases
Foundations Piled
Ballasted Base
Stone Matts
Grillages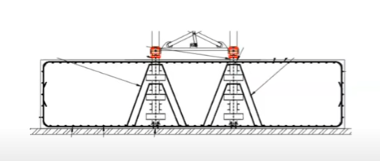 Tower Crane Base Webinar & Design Considerations
You can learn more about the different types of tower crane foundations by watching the tower crane base design CPD webinar recorded by the team in February 2022.
The webinar reviews the different types of tower crane bases including piled, ballasted base and grillages as well as the following design considerations
Sprung or Pinned Bases
A common design consideration is whether the tower crane base is going to designed as a sprung or pinned interface. The importance of this design decision is the impact this can have on the load in compression and in tension.
Difference Between Designer & Checker
The choice of sprung or pinned base design can create differences between the designer and the checker. This leads to a wider discussion in the webinar on performing temporary works checking particularly where manual calculations are being compared to FEA analysis.
The webinar also identifies errors that can be encountered by designers performing tower crane base checks.
Deflection & Pile Testing
It also discusses the design considerations for pile deflection tolerances and where pile testing may be required.
Interface With Permanent Works
The interface with permanent works is vital to ensure the efficacy of the tower crane base design and the constructability of the project. It is important to identify who is responsible for coordinating the loads.