Andun Ltd were approached by HCJV (Hochtief Costain Joint venture) to provide a methodology and Form C documentation for demolishing the original footbridge located at Reading station. The footbridge was a significant 110m long structure formed of 4 main spans with smaller link spans between them. The two Southern spans (1 & 2) were 8.5m wide, while the two Northern spans (3 & 4) were 4.5m wide. The demolition was undertaken by Sam Gilpin Demolition.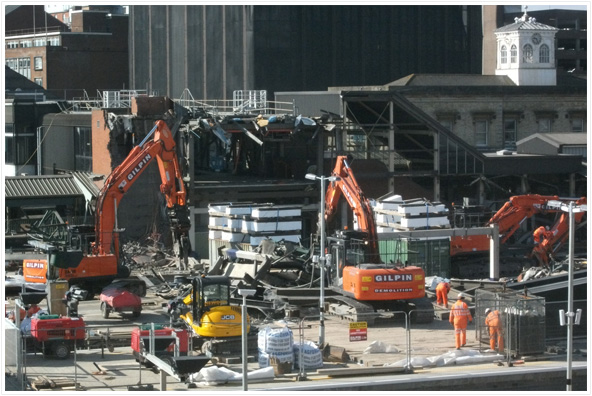 Phase two was undertaken in two separate possessions, with span 2 removed first. The bridges were deconstructed in-situ using 35 tonne excavators. Andun's work consisted of the following:
Working in conjunction with Gilpin Demolition to establish the methodology for the works;
The design of the crash deck/working platform for the works;
Designing the propping for the containers and the baulk timber system for supporting the bridge mid-span;
Analysing the truss to demonstrate how it would behave during the demolition;
Designing a restraint system to prevent span 1 from rotating towards live services located very close to the West side of the link bridge;
Designing the propping to support span 1 to deal with high lateral loadings expected due to demolition methodology;
Demonstrating that the structure would remain stable both during demolition and between span 2 and 1 being demolished
The works were successfully completed during the Easter 2013 shutdown of Reading station.