Andun provided temporary works design and demolition sequencing support to the theatre demolition & basement propping elements of the £100m Landmark redevelopment in Manchester.
This project was awarded the Chair's Constructability Award at the 2019 ICE North West Awards.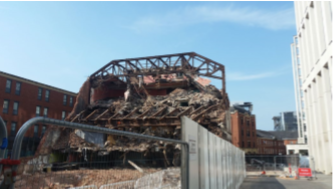 The site was small, the existing structure was in a poor condition, and the site was surrounded by public roads as well as being located in the city centre.
It also shared a boundary with a multi-storey structure that was being retained for the permanent works. These tight and difficult site constraints made the task of creating a double storey basement using the existing perimeter walls for support very challenging.
It meant that efficient temporary works designs were key to enable multiple works to progress concurrently and thus a timely project delivery.
The majority of the former theatre was removed using a long reach excavator however some parts of the removal works required some innovative engineering to reduce the risk to the public.
One such design was the pull-down of the 20te truss that spanned 25m and supported the roof and high ceiling of the former theatre.
Pulling the truss down into an exclusion zone in a controlled manner not only eliminated the potential for structural collapse outside the site perimeter but also significantly reduced the number of man-hours working at height.
As well as this Andun also provided stability assessments of the structure during the demolition, approved demolition sequences and provided onsite inspections during the demolition works.
Basement Propping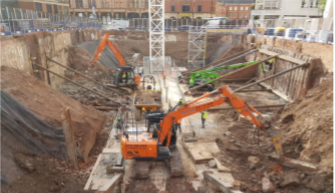 The basement propping scheme involved supporting the existing outer perimeter walls using fabricated steel raking props that were supported from a central r.c. basement raft.
Landmark Basement Propping
Support to the corners of the structure was provided with horizontal flying shore braces.
Andun Design Services during the Basement propping scheme:
Production of Approval in Principle for submittal to Manchester City Council
3D sequence drawings
Basement propping design including fully detailed fabrication drawings
Working platform design
Justification of mobile cranes operating on adjacent roads
Reinforced and unreinforced earth batter design
Cat 2 checks as well as the arrangement of the cat 3 checks where required
Site visit and temporary works inspections
Andun provided 3D sequence drawings that covered; the final stages of demolition, raft slab construction, installation of propping, underpinning and construction of the basement structure.
Andun also provided the pile mat design as well as the design of a geogrid reinforced earth wall that enabled the pile rig to operate at a raised level whilst still only using a limited amount of space on site.
During the scheme Andun worked closely with Curtins who were the permanent works structural engineers.
This enabled a smooth integration of temporary works into the permanent works which was essential considering that Andun's aim was to be efficient with using permanent works where necessary to reduce the amount of temporary works structures that would become redundant upon completion.