FACADE RETENTION – MAJESTIC LEEDS
Facade retention of a fire damaged historic building in the centre of Leeds to enable the demolition and reconstruction of the internal structure.
Andun were contracted by Armac, who were in turn working for Sir Robert Mcalpine.
The Majestic is a grade II listed building in the centre of Leeds.
In 2014 a fire damaged the roof and an emergency facade retention scheme formed of scaffolding was put in place. This system relied on the remaining internal layout for stability.
In 2018 the decision was made to renovate the entire structure and convert it to offices whilst retaining its iconic 1920's facade.
Our key involvement in the project was developing the facade retention scheme and providing demolition engineering and sequencing support.
Andun also provided other temporary works designs for the scheme including the basement propping.
The facade retention scheme concept development was complicated by a number of design considerations
Scaffolding which couldn't be removed till the facade retention was installed.
Avoiding clashes with the existing & proposed structures.
Access constraints regarding the existing roads.
The physical space available surrounding the structure.
Access into the structure to be maximised.
Fixings to clamp rather than fix into the facade as the facade is clad in terracotta.
Existing services in the pavement, including a number of large BT chambers.
Our design concept was based on a tower-based retention system. The load path being as follows:
wind/notional loading would be transferred to the trusses.
The trusses transferred the load as bending and shear back to the towers;
The towers transferred the load back down to the foundations.
The foundations were tied into the new basement walls to provide restraint, thereby reducing the required kentledge at the base.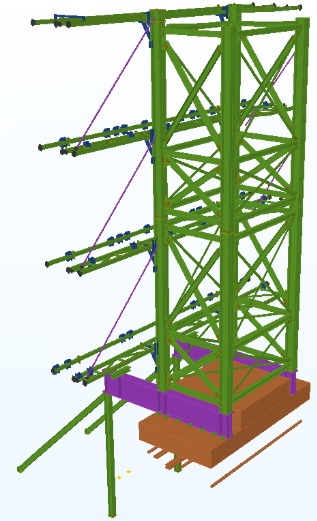 The towers were supported by concrete spreader foundations on the outside, thus reducing loading to the pavement and acting as kentledge to resist overturning. An assessment of loading to an Openreach Chamber beneath tower 2 was also required as a part of this scheme.
To reduce the amount of kentledge, the towers has internal legs, which increased the lever arm for overturning. Ties into the new retaining wall were used to remove the need for internal kentledge. Reducing the kentledge also reduced the need for basement propping.
AEC utilised clash detection to aid design development. The below image shows how this was used with the internal tower. Note that the sketch shows an early concept, in the final design the blocks of kentledge were replaced with piles.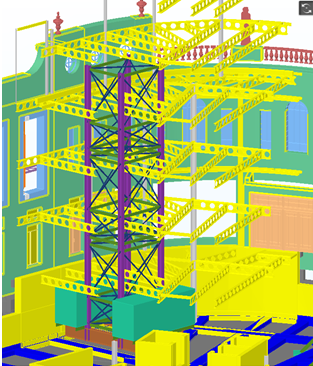 The facade retention scheme was implemented as planned by Armac and the structure is near completion and will soon become Channel 4's new national headquarters.
Below is a picture of the facade retention and an artist rendition of what the new structure will look like.