BASEMENT PROPPING – OLD
GRANADA STUDIOS
Basement propping and temporary works to demolish the existing structure at an iconic location in Manchester. Project aim was to reduce the level of the basement, construct pile rafts to serve as core foundations and facilitate the permanent works of the new basement structure.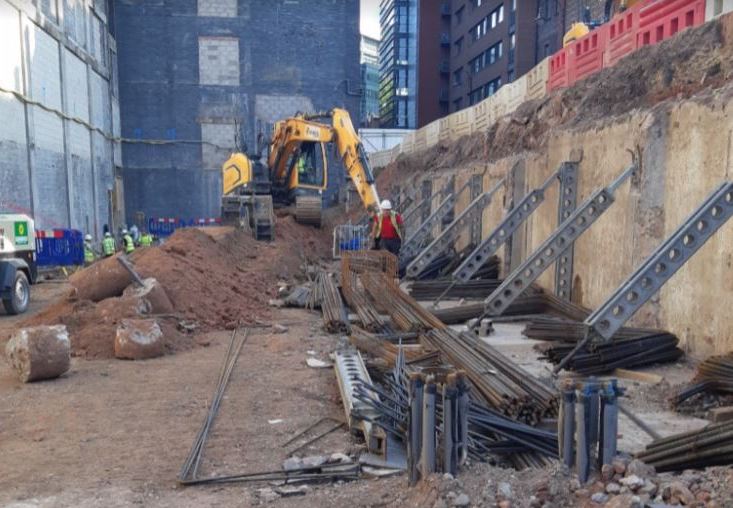 Principal Contractor – Bowmer & Kirkland
Structural Engineer – Curtins
Old Granada Studios are a British icon. The place where shows such as Coronation Street were filmed for decades. In fact, Zone 6 was opposite and not far from the cobbled streets of Coronation Street.
Following the closure of the studio, the site is being regenerated into a mixed-use development of hotels, offices, and hospitality.
The site was surrounded by roads and tight to other buildings in the project. This created a considerable space constraint for the project. This project is a great example of the value of early consideration of temporary works and using site investigation to inform the proposed methodology.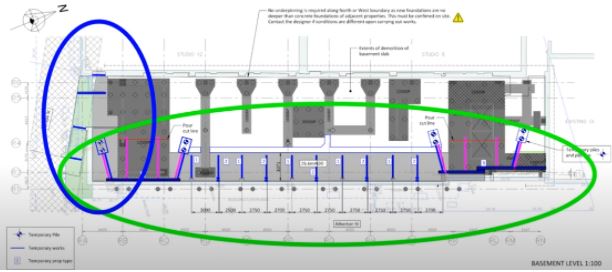 The basement propping for this project was split into two main areas on Atherton Street and Grape Street.
The Atherton street propping was designed to support the road and the piling rig during high-level piling.
This was split between general propping detail using raking propping to the existing slab. As well as some heavy duty propping to enable the construction of some deep piling caps.
The Grape street propping supported the road at ground level and had an interface with an existing underground canal.
The use of extensive site investigation allowed for significant reduction in the temporary works by calculating loadings and creating a scheme that utilised as much of the existing structure as possible.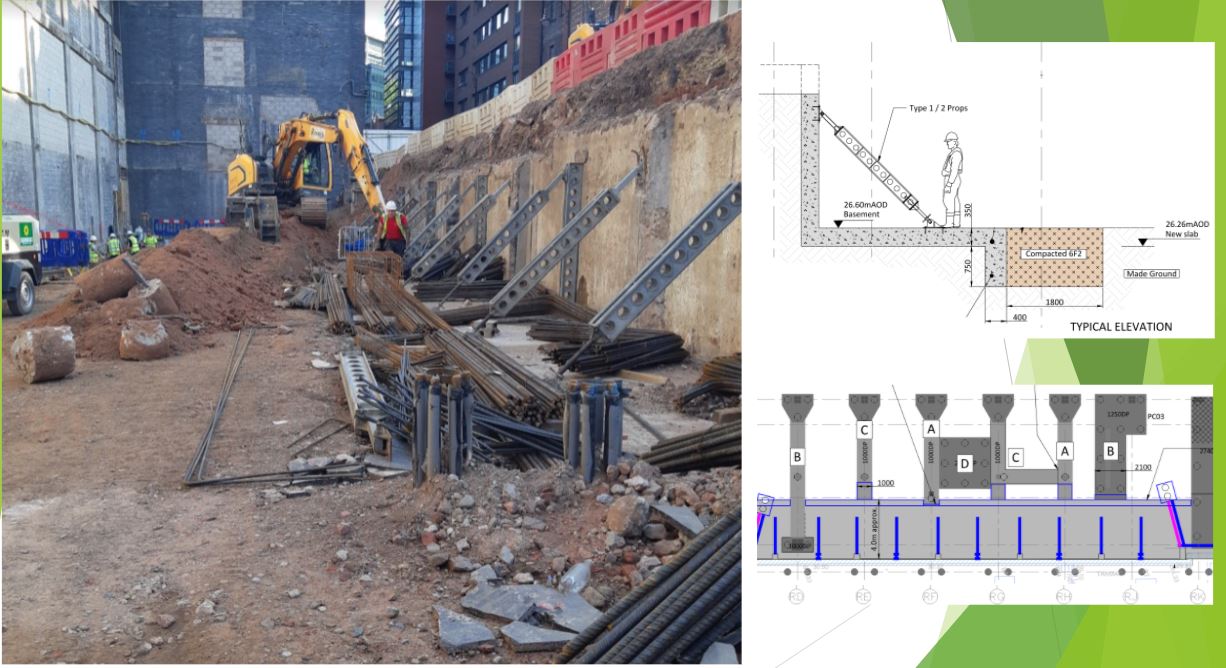 ADDITIONAL TEMPORARY WORKS
There were extensive temporary works as part of the project which included
Cabin foundations
Hoist based mast climber base designs
Wailer beams
Plant load assessments
Temporary piles
A key element of basement projects is the collaboration between the different stakeholders and the consideration of the constraints and nature of the planned permanent works.
Another basement propping project Andun was involved in was Landmark Manchester which won an ICE North West constructability award.