New Street station is one of the busiest in the UK and is used by 140,000 passengers a day; approximately double the number the station was originally designed to deal with when it was rebuilt in 1967. The redevelopment works are being carried out by Network Rail, with backing from Birmingham City Council, Advantage West Midlands, Centro and the Department for Transport.

Coleman and Company were successful with their tender for WP2005 and Andun Ltd was subsequently appointed to undertake numerous temporary works, including: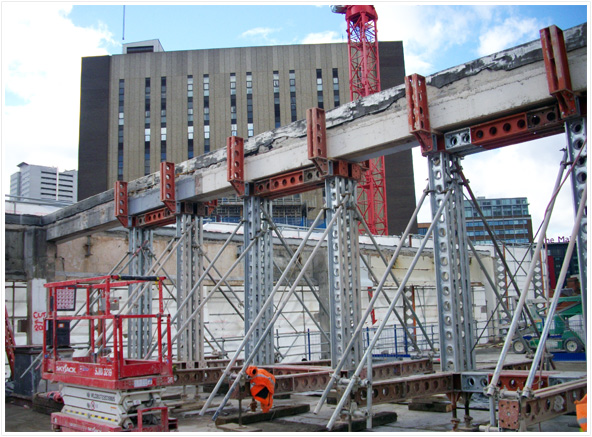 Key works undertaken:
The design of an overhead crane system, including fabrication drawings;
Assessment of the global stability of the remaining structure, as the demolition work proceeded;
Assessment of the structure for plant loadings;
Designing a transporter system for moving and rotating cut sections when out of the reach of overhead cranes;
Designing support systems and analysing the existing structure in connection with the removal of slabs and primary and secondary beam
Designing propping systems where loads exceeded existing structural capacity;
Providing sub-contractors with lead design review;
Developing and submitting documentation to Network Rail for the approval of temporary works (Form C's).
Subsequently, Coleman and Company have been awarded WP 2000 (Atrium Works) and WP 2002 (South Side Development). Andun Ltd have been retained as lead temporary works designers, including the review of subcontractors design works prior to submission. Andun Ltd have also worked for other contractors on the project, including
John Doyle Construction;
Atlas Ward Structures;
Watson Steel;
Severfield-Rowen Plc.
Blow Up Media
Works for the above have included:
Assessment of mobile crane (up to 1000 Tonne) positions within the station and on roads surrounding the station. Including assessment of the crane in use, and when travelling on the structure;
Outline lift planning;
Design and checking of scaffolds;
Design and checking of temporary propping and jacking proposals;
Assessment of the structure for stability and plant loadings including Spider cranes, Telehandlers, transport bogies, MEWP's, and Genie lifts.