CROSSRAIL WHITECHAPEL STATION WORKS
Andun were appointed by Kilnbridge to provide the calculations, and demolition sequence necessary to produce a Form C for the partial demolition of bridge D1246 as part of the Crossrail works.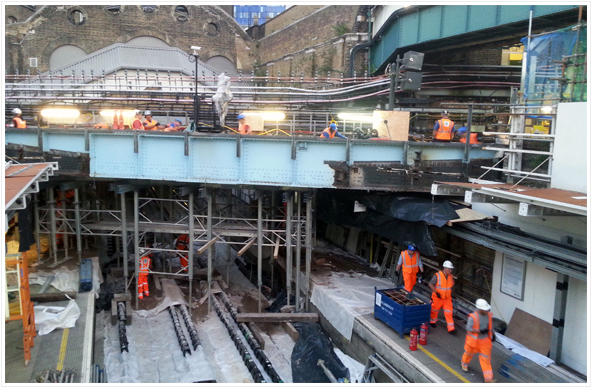 The original bridge was installed in the early 20th century and substantially reconstructed in 1957. The bridge deck consisted originally of steel troughs which were replaced in 1957 by steel beams spanning onto the plate girders. The deck beams had precast slabs spanning onto the bottom flanges forming permanent formwork allowing in-situ concrete to be cast up to the tops of the cross girders.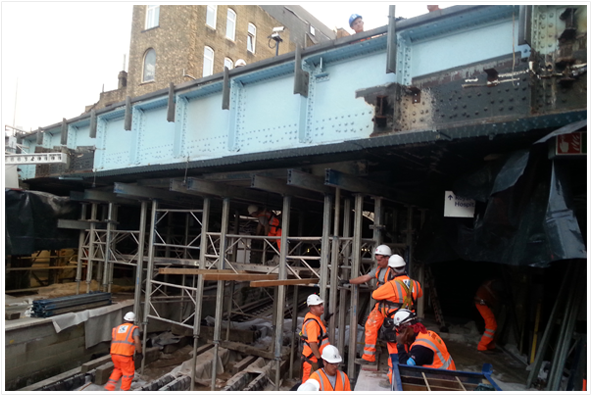 The demolition of the bridge was complicated by a number of factors, including:
Access to the site All equipment had to be lifted in and out of the site with cranes. It was therefore prudent to limit the materials required, and ensure the bridge was removed in the minimum number of lifts.
Available lift capacity The weight that could be lifted was limited by the size of crane that could be used. This required the structure to be cut into smaller sections than necessary from a structural standpoint, further complicating the propping.
Services There were numerous electrical and signalling services to the underside of each bridge adjacent to the abutments. This limited the access to the soffit of the structure, and prevented propping from being installed within 4m of the abutments.
Timescales The available time in the possession required a simple, easy to erect solution to ensure the tight timescales could be met.
In essence the demolition was undertaken in the following manner:
Break out the concrete haunch;
Erect propping to underside of the structure;
Pre-cut across the bridge, perpendicular to the edge girders;
Install lift beams to the end bays;
Cut each side of the bridge, parallel to the edge plate girders;
Lift out deck panels, in 5 separate lifts;
Lift out edge girder;
Clear and tidy the site.
At the request of the client Andun provided Engineering cover throughout the possession, checking and signing off the temporary works as required.