As part of our investment in developing the next generation of engineers, Andun has entered a team in the MERIT International Construction Business Game for the last three years.
What Is The MERIT Competition?
MERIT is a computer-simulated game designed to emulate real-world construction business markets and challenges. 
MERIT is an acronym representing Management, Enterprise, Risk, Innovation, and Teamwork.
Teams are formed of up to 4 people and serves as a platform for budding engineers to helm a virtual company giving them a range of decisions to make that will impact the profitability and share price of the company.
There are 8 rounds in the first phase of the competition, known as the Early Years. 
Each round is played over one week, and will normally require between 1 and 2 hours of each team member's time per week.
The top teams from the early years will be invited to an intensive final held online, known as the Final Years, when the skills gained to date will be put to the test in an even more competitive environment over a further 8 rounds.
The critical goal of MERIT is to equip emerging engineers with the supplementary skills essential for career advancement.
Merit 22 
The last iteration of the competition spanned from mid-October to December 2022.
Andun entered two teams creatively named "Team 1" and "Team 2".
Both teams had a great start, securing the top two spots in the initial stages of the competition.
While they were eventually surpassed on the leaderboard during the mid-stages, both teams remained contenders. 
Their scores and stock prices continued to impress, standing tall amongst competitors.

After enduring eight rounds, both teams successfully reached the Online Final Phase. 
Given the fierce competition, making it to the finals was a great feat for both.
The concluding positions were:
Team 1 achieved a 6th-place finish.

Team 2 secured the 2nd spot.
Notably, Team 2, despite finishing second, boasted the highest final stock price amongst all participants.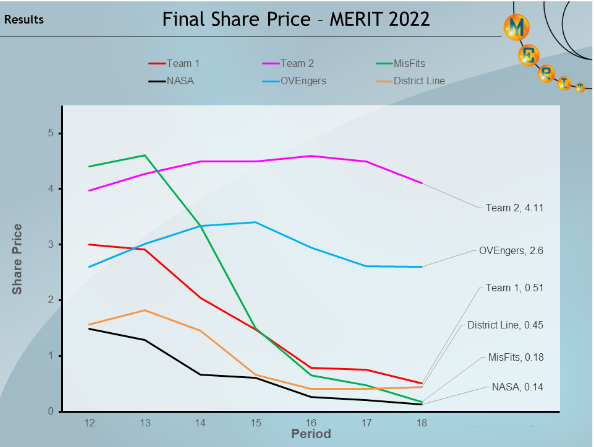 Developing engineering talent is a core value at Andun, and it is great to see the teamwork and inventiveness of the team is rewarded. 
The Merit competition has been a great educational tool for Andun, we look forward to submitting teams for future competitions.
Congratulations to both teams, particularly Team 2 who came close to sealing our first win.