Spooner Row – Lifting Design & Demolition Sequencing
Demolition engineering and lifting design for the removal of a signal box at Spooner Row in Norfolk. 
Main contractor – Balfour Beatty
Demolition contractor – Clarke Demolition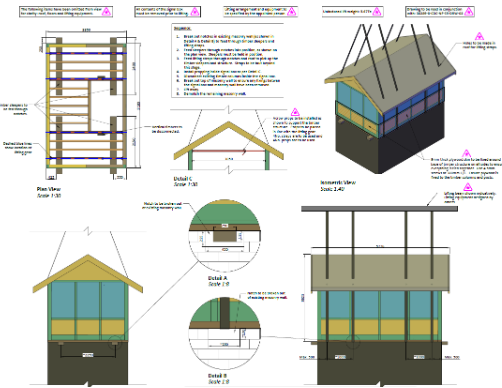 Demolition Methodology
Andun proposed the design of a simple and cost-effective solution to lift and transport the signal box onto the low loader.
The design was to needle into the masonry and put sleepers on either side of the structure. 
The timber sleepers were to be fed through the notches spreading the load across the floor joists. As the joists were built into the frame, it was possible to lift the entire structure.
A sling would then be put underneath the structure to then be lifted and moved onto the low loader. Once the wooden signal box was removed the brick structure underneath was to be demolished in-situ.
The design was implemented by the demolition contractor in March 2021.
The signal box has now been moved to its new home at Wymondham Abbey station on the Mid-Norfolk Railway, where it will be fully restored.
The demolition is described in our Crane Design webinar which includes a video of the demolition by main contractor Balfour Beatty