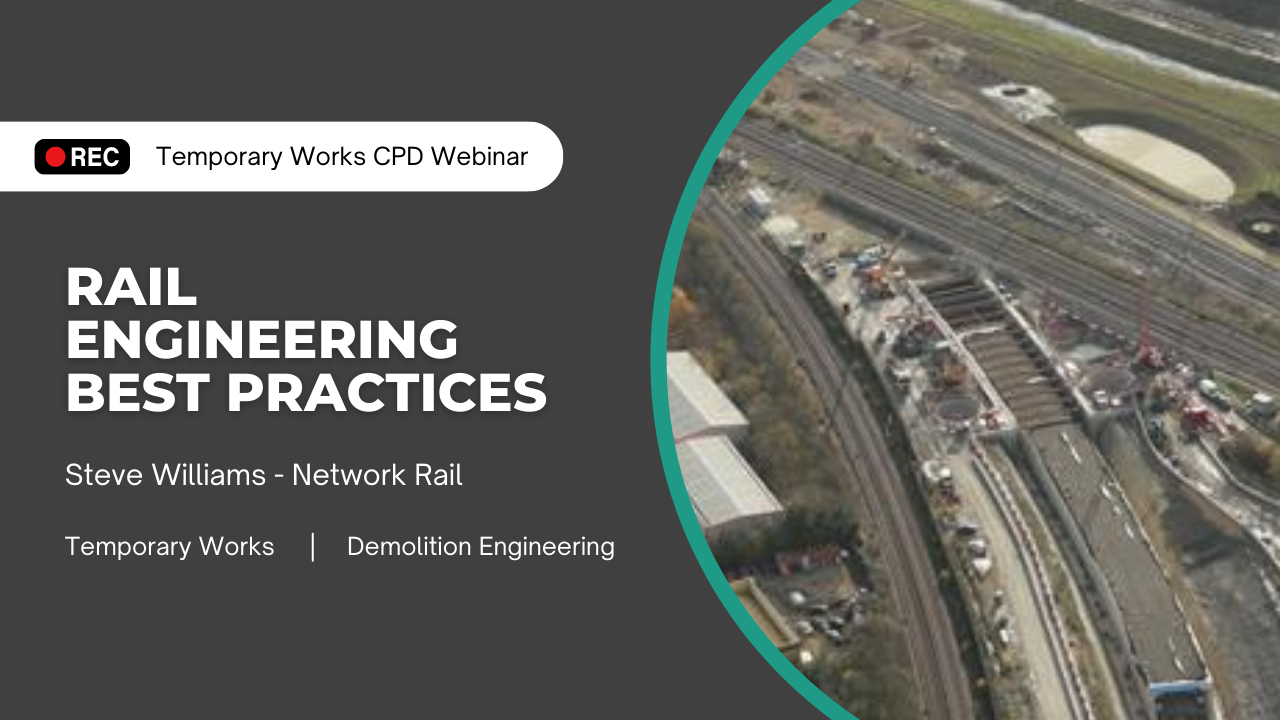 Rail Temporary Works Best Practices
Steve Williams, a Network Rail's technical authority, joined us to share his knowledge and insights on rail temporary works best practices.
Looking at lessons learned from temporary works failures in the rail environment and examples of good practice.
The second part of the webinar was a case study from Andun Engineering Consultants (AEC) from an ASPRO scheme.
Steve Williams – Rail Engineering Best Practices
Steve's presentation covered the following topics.
Overview of the importance of temporary works design briefs
The role of design briefs in guiding design decisions and ensuring safety
The origins of the design brief requirement, including the Bragg Report
The significance of detailed planning in engineering projects, including temporary works
Lessons learned from past projects highlighting the importance of proper planning and collaboration
Compliance with industry standards and guidelines
The importance of supervision and verification in temporary works
The need for continuous learning and knowledge sharing within the industry
Future considerations and reflective questions for improvement
Asset Protection Optimisation Team (ASPRO) Case Study
Andun Engineering Consultants (AEC), Managing Director Angus Holdsworth delivered a complimentary ASPRO scheme case study.
Introduction to working near railway infrastructure and ASPRO (Asset Protection Optimization team) schemes.
Explanation of the asset protection agreement with Network Rail
Importance of conveying the project concept to Network Rail and understanding key considerations such as clearances, retaining walls, and proximity to railway assets.
Recognition of hazards beyond the railway itself and the significance of experienced designers in working near railways.
Factors to consider including clearance zones, land ownership, drainage, and retaining walls.
Importance of adhering to temporary works guidelines and examples of considerations for foundations, platforms, scaffolds, and hoists.
Significance of signal sighting assessment and its impact on the track support zone.
Description of specific project challenges and solutions, such as attenuation tank placement and excavation near fences.
Importance of compliance with guidelines and regulations, including enhanced checks and approvals for temporary works and permanent structures.
Emphasis on safety factors, including load factors, crane placement, site access, and emergency preparedness.
Recap of key considerations when working near railway infrastructure, including proper planning, compliance, and effective communication with Network Rail.