RAIL BRIDGE DEMOLITION – WERRINGTON GRADE SEPARATION
Demolition engineering for the removal of a rail footbridge over the East Coast Mainline as part of the Werrington grade separation project near Peterborough
Contracted by the demolition contractor Clarke Demolition to provide the demolition engineering and sequence for the project.
The Werrington grade separation project is a project to build a new two-track railway line and build a 3km in length,'dive-under' to allow high-speed trains to pass over the Great Northern Great Eastern Line (GNGE).
The footbridge was removed in two main phases
Phase One – Western Access Ramp
The first phase, for which Andun designed the demolition sequence, was the removal of the west side elevation ramp to the main deck. A temporary access system was installed so the bridge could remain operational between the two demolition phases.
After the first phase, an Andun engineer performed a site visit to analyse the structure and to measure the members ahead of the second phase of the demolition.
Phase Two – Eastern Access Ramp & Main Span
The second phase was split into two stages; the first removing the east side access and the second was lifting out of the main deck.
By analysing the drawings and the site visit, we were able to determine that the main span of the bridge did not require the eastern ramp structure for stability, and therefore the eastern ramp could be removed prior to the main span.
The eastern access ramp had three sections; the upper section weighing 8,700kg was cut out and lifted out during a possession while the lower two sections were held by an excavator to ensure the stability of the ramps.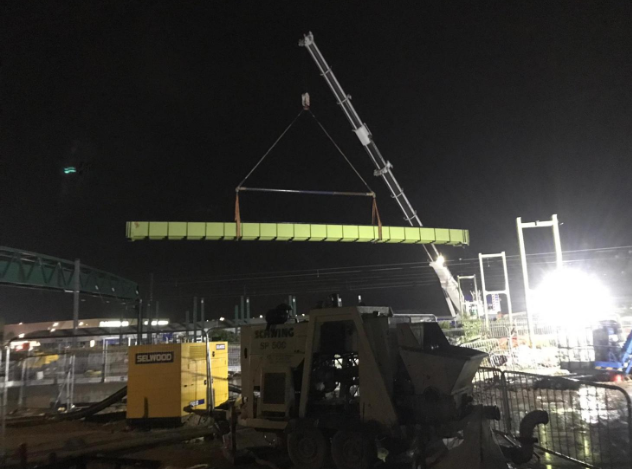 The lower spans were removed immediately afterwards by stripping the parapets and decking as well as cutting out and removing the primary steel PFC beams with an excavator.
The main span of the bridge was demolished by lifting the main span during a possession and breaking it up away from the railway line. The 27,000kg main span was removed using a mobile crane.
Once the main span lift was completed the piers were lifted out and the possession was completed on schedule.