LPS DEMOLITION – COVENTRY POINT
Demolition engineering methodology of two linked Large Panel Structures (LPS) in Coventry City Centre as part of a £300m urban regeneration project.
Demolition Contractor: Coleman and Co
Coventry Point was two linked large office buildings in central Coventry. The structure was incorporated into shops on the ground floor and had a link bridge to a nearby multi-story car park.
This Large Panel Structure (LPS) demolition was completed in September 2020 and received widespread coverage in the media.
The key constraints and challenges for this project were the proximity of this building to other buildings, roadways and the general public. As well as the associated risks of latent defects within LPS structures.
This case study was featured in our Temporary Works and Demolition webinar series delivered on the 29th of January 2021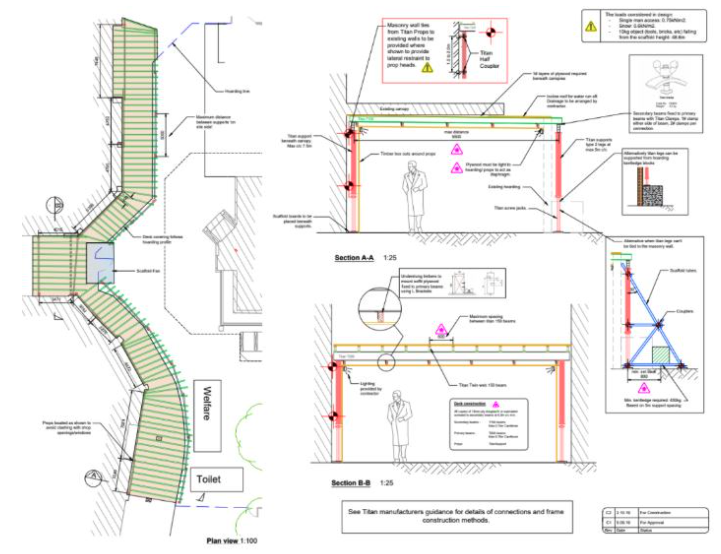 The building was in a densely populated part of the city centre and the surrounding buildings, roadways and shops were to remain open during the demolition creating challenges to mitigate the risk of falling debris.
The following temporary works were used from the source to the crash deck to mitigate these risks.
Deflection screens
Sheeted scaffolding with demolition fans
Ply boards screwed to the working level to prevent debris filtering down
Deck over public using shops below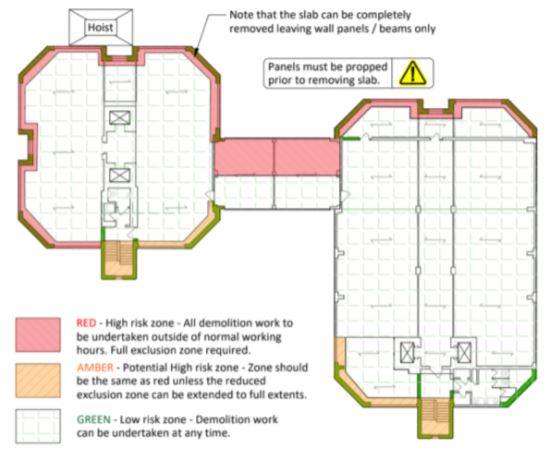 Due to the construction methodology, there is a well-documented risk of latent defects leading to disproportionate/pancake collapse. Such an uncontrolled collapse during the demolition would have posed a serious risk to the project team and those in the surrounding area.
This was mitigated by extensive site investigation and utilising a high-reach design methodology.
There were also a large range of associated temporary works for this project including stability assessments, propping and scaffolding/hoist checks.
The temporary works for this project included
Global stability assessment
Site investigation works
Precast panel propping
Plant justification
Scaffold and hoist check