Bridge Demolition – SAS13 Viaduct
Overview of the demolition engineering for the removal of a 125m viaduct across the Stetchford to Aston (SAS) rail line. The masonry arch structure was built in 1878 and a steel box girder underbridge was installed on the third span in 1997. 
The bridge was removed and replaced as part of the HS2 enabling works.
Principal Contractor – Skanska
Demolition Contractor – Armac
Andun Engineering Consultants provided the demolition engineering support including;
Demolition methodology

Weight and load calculations

Track and abutment protection design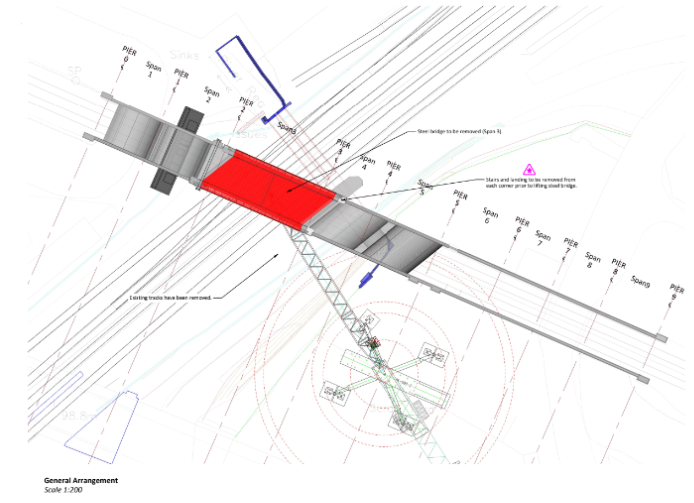 Steel Box Girder Underbridge
Prior to the removal of the steel deck the stairs and landing were removed from each corner.
The bridge was jacked a nominal distance so that it was clear of the abutments. 
This enabled the weight of the bridge to be checked before lifting and verified that the bridge could be lifted freely in line with the demolition methodology. An assessment of the bridge was also completed as the load condition changed due to the lifting methodology.
Deck Lift Out
To lift out the steel deck, a letterbox was burned in the deck and lifting chains were wrapped around the box girder. The bridge was then lifted by crane and removed.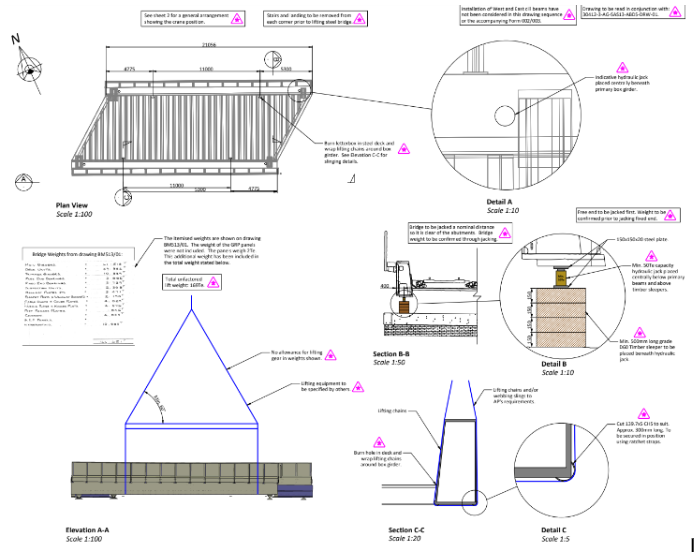 Masonry Arch Demolition
Once the existing steel bridge was removed, the masonry arched bridge was demolished mechanically using large excavators operating at ground level.
Andun completed an assessment of the bridge and track and abutment protection for plant and debris loading was designed.
Demolition of the arches started where the steel bridge was removed, with excavators working towards the abutments.
The end abutments were filled with concrete, with the new abutments of the replacement bridge constructed in front.
Andun designed an arch propping system, as well as, protection to the newly constructed bridge abutments to facilitate the demolition of the masonry arches at each end.